I am doing all kinds of SDL and programmer voodoo, and one such thing I am trying to do is create layered canvases. To do this, I have declared three Textures, Background, Main_Layer and Foreground (I may expand this for any arbitrary number of layers), and I first clear each texture to #00000000, then I render objects to one of those textures using SDL_SetRenderTarget, then render each of those textures to NULL (that is, the default, so that it appears in the window). One problem that I have found is that for whatever reason, it will not display SDL_BLENDMODE_ADD textures correctly anymore.
Everything is set to SDL_BLENDMODE_BLEND (except the additive stuff), of course, and I'm initiating the Renderer with SDL_RENDERER_TARGETTEXTURE as well as each of the three layer textures being designated SDL_TEXTUREACCESS_TARGET. Otherwise we would have much bigger problems.

Here's a screenshot. On the left we have what it's supposed to look like (and what it does look like if I just render objects to NULL), while the one on the right is what it looks like if I attempt to render to Main_Layer first: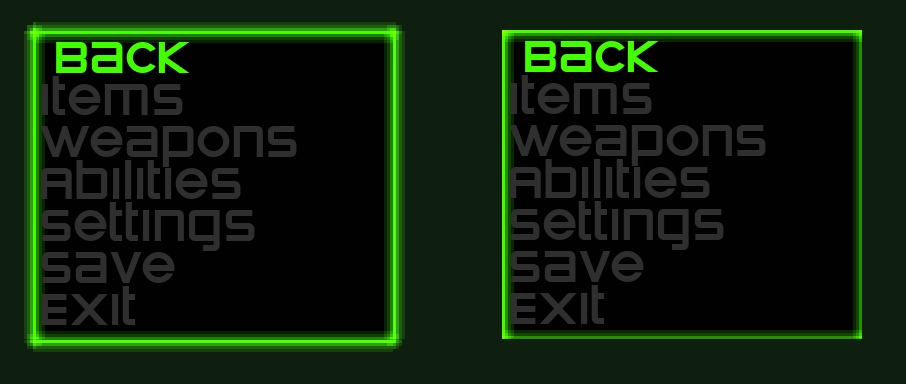 The dark green is the draw color that filled in when I called SDL_RenderClear on NULL. As you can see, it renders the ADD portion (the border) properly inside the box, presumably because the target texture has opaque pixels in that area, while the part outside the box appears to be completely transparent, presumably because the target texture has completely transparent pixels underneath.
I don't know if sharing my code will be all that helpful since other voodoo I'm engaging in involves Ada language and subroutine accesses, but I can put together an excerpt if it will help.
Thanks!