Hey Folks…
Trying to get started with SDL on iOS.
First test, modified rectangles.c to draw "concentric rectangles" on tap / click.
Is there some "double buffer" setting I don't see?
Here's what I get, drawing green, blue, cyan, magenta, yellow rectangles (I left out red, as will be obvious shortly):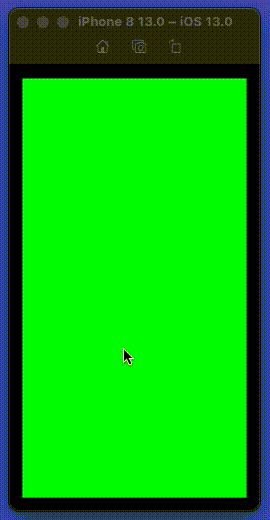 It looks like I end up with a black-cleared buffer and a red-cleared buffer, alternating with each call to SDL_RenderPresent(renderer);?
I also have an old copy of SDL — looks like the last commit was Oct 10, 2018 – which, with the same code, gives me what I expected: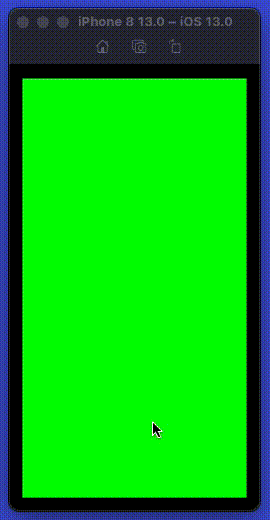 Same result on Simulator and Device.
Here's the source code (based on the rectangles.c demo):
/*
 *
 * firstTest.c
 *
 *  based on rectangles.c
 *  written by Holmes Futrell
 *  use however you want
*/

#include "SDL.h"

void
fatalError(const char *string)
{
	printf("%s: %s\n", string, SDL_GetError());
	SDL_ShowSimpleMessageBox(SDL_MESSAGEBOX_ERROR, string, SDL_GetError(), NULL);
	exit(1);
}

void
myDrawRect(SDL_Renderer *renderer, int x, int y, int *c)
{
	int renderW;
	int renderH;
	
	SDL_RenderGetLogicalSize(renderer, &renderW, &renderH);
	
	//	centered rect
	SDL_Rect rect;
	rect.x = x;
	rect.y = y;
	rect.w = renderW - x * 2;
	rect.h = renderH - y * 2;
	
	/*  Fill the rectangle in color */
	SDL_SetRenderDrawColor(renderer, c[0], c[1], c[2], 255);
	SDL_RenderFillRect(renderer, &rect);
	
	/* update screen */
	SDL_RenderPresent(renderer);
}

int
main(int argc, char *argv[])
{

    SDL_Window *window;
    SDL_Renderer *renderer;
    SDL_Event event;
    int windowW;
    int windowH;

	int done;

	// 5 colors
	int colors[5][3] = {
		{  0, 255,   0},	// green
		{  0,   0, 255},	// blue
		{  0, 255, 255},	// cyan
		{255,   0, 255},	// magenta
		{255, 255,   0}		// yellow
	};
	int c = 0;
	int x = 20, y = 20;
	
    /* initialize SDL */
    if (SDL_Init(SDL_INIT_VIDEO) < 0) {
        fatalError("Could not initialize SDL");
    }

    /* create window and renderer */
    window = SDL_CreateWindow(NULL, 0, 0, 320, 480, SDL_WINDOW_ALLOW_HIGHDPI);
    if (window == 0) {
        fatalError("Could not initialize Window");
    }
    renderer = SDL_CreateRenderer(window, -1, 0);
    if (!renderer) {
        fatalError("Could not create renderer");
    }

    SDL_GetWindowSize(window, &windowW, &windowH);
    SDL_RenderSetLogicalSize(renderer, windowW, windowH);

    /* Fill screen with black */
    SDL_SetRenderDrawColor(renderer, 0, 0, 0, 255);
    SDL_RenderClear(renderer);

	// draw first rect
	myDrawRect(renderer, x, y, colors[c % 5]);
	x += 20;
	y += 20;
	c += 1;

	done = 0;
	while (!done) {
		while (SDL_PollEvent(&event) == 1) {
			switch (event.type) {
				case SDL_QUIT:
					done = 1;
					break;
				case SDL_MOUSEBUTTONDOWN:
					myDrawRect(renderer, x, y, colors[c % 5]);
					x += 20;
					y += 20;
					c += 1;
					break;
			}
		}
	}
		
    /* shutdown SDL */
    SDL_Quit();

    return 0;
}