I have just started to use SDL2 and right now, I have trouble setting it up. Right now, I am using Lazy Foo's tutorial for setting up: http://www.lazyfoo.net/tutorials/SDL/01_hello_SDL/mac/index.php.
Everything has been going pretty smoothly until I hit step 7 of his tutorial, in which I was able to download his source file for lesson one and put it into my project. However, whenever I tried to build, I get six documentation issues and one Apple Mach-O Linker (Id) error.
One documentation issue is occuring in the SDL_assert.h, four documentation issues are occuring in SDL_rwops.h, and one documentation issue is occuring in SDL_hints.h. Here is an image of the errors I am receiving (Sorry, but apparently, I can only post one image since I am a new user, so I will try to post the second image in the comments):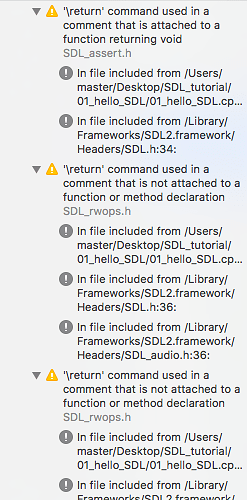 In addition, all of the document issues are occuring all in the same line:
#include <SDL2/SDL.h>
This is my first time posting here, so if I missed out on any crucial details, please tell me so that I can rectify it.