Hi.
I'm trying to make a 1 to 1 mapping between physical device and virtual device (vJoy)
Since I'm trying to map 1-1 between physical and virtual controller, I shouldn't have any business with mapping. Hence, As @slouken described simply in SDL Game controller button mapping issue - #2 by slouken ,I'm trying Joystick mode instead of GameController mode by thinking that joystick button numbers/indexes wouldn't be mapped so 1-1 mapping would be simple.
This is correct for almost all controllers I have but one controller doesn't work in that way. It is a PS4 controller.
When I press press leftshoulder button, event.jbutton.button says 9
When I press press rightshoulder button, event.jbutton.button says 10
(It also says 9 and 10 in game controller mode instead of joystick mode, same. I confirm I'm not mistakenly using controller mode by trying same method with other controllers without changing anything)
But when I test it with other tools, they give 4 and 5 as button numbers.
This is Window's Utility: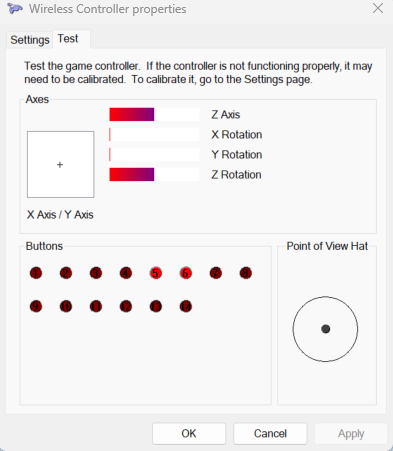 This is the result from https://gamepad-tester.com/


This is result from https://greggman.github.io/html5-gamepad-test/


So they are all giving 4 and 5 (Window's start from 1, so 5 and 6) for leftshoulder and rightshoulder buttons.
I tested with my other controllers and they are working 1 to 1 with this method.
So what could be the problem with that specific controller? What should I check?
SDL_Init(SDL_INIT_JOYSTICK | SDL_INIT_EVENTS);
SDL_JoystickEventState(SDL_ENABLE);
SDL_Event event;

while(SDL_WaitEventTimeout(&event, 50))
{
    switch(event.type){
        case SDL_JOYDEVICEADDED:
              m_Joystick = SDL_JoystickOpen(device);
        break;
        //
       case SDL_JOYBUTTONDOWN:
       case SDL_JOYBUTTONUP:
               qDebug() << "JoystickButton(" << QString(SDL_GameControllerGetStringForButton((SDL_GameControllerButton)event.jbutton.button)) << ")" << event.jbutton.button<< " -> " << event.jbutton.state;

      break;

    }
}