When ever I try to Build->Compile a project I get an error like such
error: 1d returned 1 exit status
cannot find -lSDL2main and -lSDL2

Below is an image with all my linking for SDL2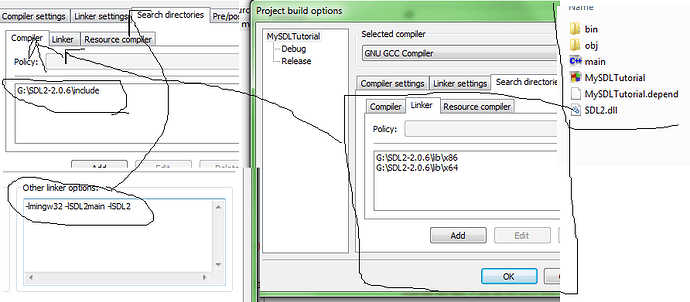 Sorry about the mess I had it all neat but a new poster can only post one image.
Anyhow, I seem to have linked things all properly, and btw I have tried linking SDL2/lib/x64 alone, and SDL2/lib/x86 alone and even SDL2/lib alone and I still get the errors, that was just an attempt to see if linking them both alone would help.
As you can see I even have the SDL.dll and I dont get any errors about SDL.h, What am I doing wrong here?
I know the sourcecode is correct because Its just a simple window tutroial I copied the source off LazyFoo's tuts