Hey all,
we are trying to solve a really strange and complex problem.
We are rendering via SDL_GPU on an Android SurfaceView. We are using the example SDLActivity from the SDL2 Project.
We need to render a video under our SDL view. To simplify all the video stuff we are using the ExoPlayer to load and display the video. We are rendering a video via ExoPlayer into another Surface View which lies under the SDL SurfaceView. Now we need to make the video visible under the SDL Surface as it is covering the whole screen. To make this possible we set the Pixelformat via getHolder().setFormat(PixelFormat.RGBA_8888);
This makes the video visible under the SDL view. But then something reeeeeallly strange happens as soon as we add any view that has opacity above a view that is opaque: The video becomes visible on the exact same area. Here is an image of ho it looks as soon as we render something transparent inside our SDL surface: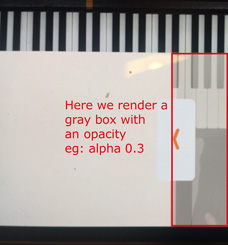 The red box hence our transparent gray is rendered above the opaque background, but the video becomes visible on that area.
Does anyone have an idea what could be the reason for that behaviour and how it might be solved?
Please let us know if there is more information needed for this issue. Hope there is an