While experimenting with compositing images in SDL2 on Linux, I get a dark edge around my textures. In the image below, you can see the top example, where I composited the cyan image on top of the blue/magenta image in GIMP, looks correct but the bottom example, which is done using SDL_RenderCopy, is darker around the edges.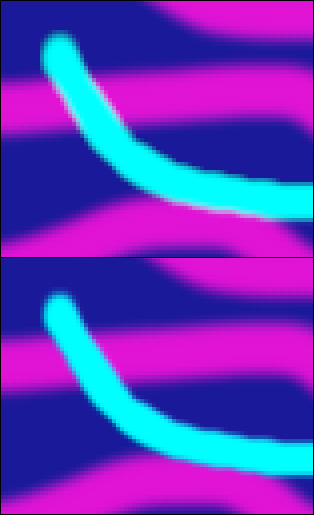 I tried premultiplying the the colors in the cyan image and setting the blend function as such…
SDL_SetTextureBlendMode(texture,
SDL_ComposeCustomBlendMode(
SDL_BLENDFACTOR_ONE,
SDL_BLENDFACTOR_ONE_MINUS_SRC_ALPHA,
SDL_BLENDOPERATION_ADD,
SDL_BLENDFACTOR_ONE,
SDL_BLENDFACTOR_ONE,
SDL_BLENDOPERATION_ADD));
…but that produces the exact same thing.
Can anyone tell me how to get proper alpha blending?